I have promised to update you about what I have been up to in the year 2017 and my plans for the year 2018.
Near the beginning of the year, I took part in the Imago Mundi Project Scotland 2017. Check out my previous blog post for this. Last year my new year's resolutions were to work further on my online shop and make at least one painting a month. I haven't quite lived up to my own expectations.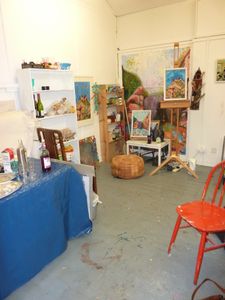 I didn't know, that I will get distracted by organising monthly meetings at Wasps Studios in Aberdeen and also consequently help to organise the open studio event 'Wasps Christmas Show'.  I can say thought that the 'Wasps Christmas Show' that happened on the 3rd December 2017 was a success. I can put that experience in my pocket now! I have even tidied up my studio for this (although lots of the tidying was done the day before and on the day, stressful!)
The challenge for the year 2018 will be to be less reactive to world around me, other people's ideas and work on my own stuff and on 'The Maker's Yearbook Planner'. I will post more information about the planner in due course.
Please check out some of my works, that I have completed in the Year 2017.